Stop the Off-Payroll Tax – Stop IR35
Westminster Protest and Lobby Day
12th February 2020 – 11am – 3pm
UK contractors, freelancers, recruiters and businesses need to be in Westminster on Wednesday 12th February to tell the Government to stop their plans to roll out the IR35 Off-Payroll Tax that will decimate contracting in the UK.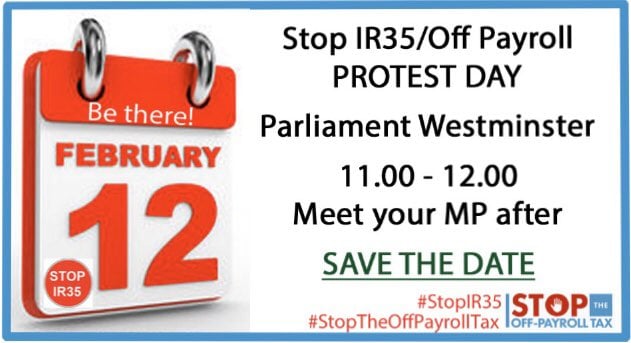 It's a Stop The Off-Payroll Tax – Stop IR35 protest and lobby day to show the opposition to the Government's plan to roll-out the IR35 off-payroll rules – the Off-Payroll Tax – to the private sector in April this year.
They are doing this despite the damage this is already causing and despite a general election campaign commitment by the Chancellor, Sajid Javid, to conduct a proper review of the flawed IR35 legislation. Disappointingly, the Government instead announced a short consultation prior to the rollout in place of a genuine review of IR35.
To get as many MPs as possible to raise concerns about this legislation, it is vital for contractors and freelancers to get the message across to them in person, in Westminster – so YOU need to be there and encourage others to join you.
Please sign-up to tell us you are attending!
Let us know you're coming
We need to know who is attending so we can communicate with you in the run-up to the day and we will keep you posted with details of the day.
Protest day – the details
Meet outside the Houses of Parliament (by the main visitor entrance/St Stephen's entrance, by the statue of Oliver Cromwell) at 10:45am. The full timetable of the day is as follows:
| | |
| --- | --- |
| 10:45 | Campaigners meet outside Houses of Parliament (St Stephen's entrance) |
| 11:00 -12.00 | Protest with placards and banners (provided) |
| 12.00 -12.15 | Campaigners walk to HM Treasury to present letter and have photo |
| 12.20 | Campaigners go to visitor's entrance and into the Houses of Parliament |
| 12.45 -13:15 | Campaigners gather in Westminster Hall/Central Lobby |
| 13:15 -13:30 | Campaigners escorted to drop-in session in Portcullis House |
| 13:30 -15:00 | Drop-in session for MPs to meet constituents in the Macmillan Room, Portcullis House hosted by Tim Farron MP |
| 15:00 | End of activity. |
We will be providing placards and vinyl banners which will provide a good photo opportunity, but do feel free to make and bring your own too! The most important thing is to be there!
What campaigners need to do – in advance and on the day
In Advance:
Email your MP and ask them to meet with you and show their support. If you are attending the day, you need to ask your MP to:

Come outside between 11am and 12pm for a photo with campaigners, which they can then tweet to show their support.
Attend the drop-in session anytime between 13:30 and 15:00 in the Macmillan Room, hosted by Tim Farron MP where they can meet campaigners and have a photograph to show their support.

Please encourage other contractors and supporters to come on the day too. The bigger the turn out, the bigger the impact.
Please tweet your MP in advance of the day (if they are on Twitter) with the hashtags #Waroncontracting #Stoptheoffpayrolltax #OneMonthtoSaveContracting and tag the campaign @stopoffpayroll.

On the day:

On the day itself, please tweet a photograph from the demonstration at your own MP (this will encourage them to make time for the drop in). Please use the same hashtags and tag the campaign.
So please do all you can to be there! We need a good turnout to show the damage this will do. Don't leave it to others to protest, we need as many contractors and freelancers there as possible!
We look forward to seeing you on Wednesday 12th February to stand up for the UK's flexible workforce and have our voices heard!